I'm so glad to have the chance to interview one of the most famous chef in Toronto. I was fascinated by your restaurant, because it is a special mix of art and cuisine.I really appreciated its minimal design and lovely service. Inside, there is an amazing wall composed of homemade glass jars, with various pickled vegetables. The strawberry red is mixed "geometrically" with the deep purple of the cherry jam, and the green of the peppers breaks the red gradation of the wild leeks, like in a P. Mondrian's painting. This is amazing!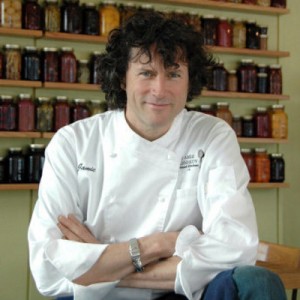 I would like to ask you some questions about your talent,inspiration and life,if you agree.These are the questions,you can read them and answer with calm.
1. When did you decide to open your restaurant?
In 2005 I was looking for a bigger space for the company's catering operations and with that I always want to be open to the public. So we found this location which suited the needs for catering production and so we opened a café for the public.
2. What's the source of your inspiration?
My inspiration comes form the Local Farmers and Artisan Producers in and around Southern Ontario.
3. Where did you learn to cook?
I was educated at Toronto's community college George Brown and did my apprenticeship at The Windsor Arms Hotel in Toronto.
4. Did you have any mentor?Who was it?
My mentor was the chef at Windsor Arms, Ulrich Herzig.
5. Do you think you created a sort of Canadian cuisine?
yes, my cuisine is Canadian cuisine, since I cook seasonally and using local product.
6. How important is ,for you,the food quality?
Food quality is the most important, it is everything. We cook to let the ingredients shine.
7. Is it true that you go in person every week to Canadian farms, to select the best of their products as your ingredients, isn't it?
I do not go to the farms every week but I do go to farmers markets and the local food terminal every week during peek season to get the best of what is available from the farmers
8. Some chefs have the opinion that the cooking way is changed over the last years, is this true?
We cook in the traditional method, French (European) method of cooking and organizing the kitchen. We make everything from scratch and have many different Chef who run many departments in the kitchen, Pastry, Butcher, Entremetier, Saucier.
9. Are all of the dishes handmade in your restaurant?
yes we make everything in house.
10. How important is the price?
We price our food to attract as many customers as possible while opening their view of high quality local food.
11. How crucial is the wine choice?
the wine choice is very important. It is important to support our local wineries and those who work and make wine in trsditional ways, such as we do with cooking. Also the wine has to be great to accommodate the great food we make.
12. How does the system of wine distribution works in Canada?
we purchase wine direct from Ontario wineries and from the LCBO (liquor control board of Ontario). We do not order form out side of Ontario and do not know the rules about that and wholesale orders.
13. Have you ever thought to organize wine degustations with professional sommeliers?
Yes we have in the past have on staff a wine professional but I am a certified wine sommelier.
14. If you had the chance to steal some tricks from foreign cuisines, which ones would you choose?
do not steal tricks. I may be influenced by other styles of cooking or cuisines but I would never replicate a dish from another chef or restaurant
15. Would you like to conclude your interview thanking anyone in particular?
to all the customers that come in everyday and support what we are trying to achieve with my business.
LEPORI GIOVANNI MARIA