I think that the best strategy, to go global but maintaining the niche market form, is using the web channel. For example the Indian industry can create a sort of Cinema platform with low fee, blending Megavideo and Blockbuster concept. In this way, the Indian filmed can be global, because on internet, and can beat the piracy, that is one of the largest problems that the Indian industry faced. 
I believe that one of the most important success factor of Bollywood is the niche market, so it should continue to pursue this way, because it's easy to control and it's easy to develop because you can experiment something new and can receive feedback very soon by internet.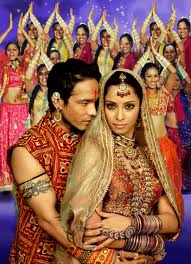 Hollywood industry adopted one crucial and particular policy to enter and penetrate new market,that we can call "locomotive policy" : "When Jurassic Park, The Fugitive or any other big film comes to Paris, the American distributors dictate the terms: "You can have Jurassic Park for 10 or 15 weeks, but to have it you must take another four or five American films to run along with it for two weeks each." This is called a train—a locomotive film with cars that follow along. No matter how well the secondary films do, they stay for the number of weeks stipulated in the contract. Instead of producing movies for Indian public, in Hollywood, the American film industry should invest to buy Indian film company in order to penetrate this market through local market policy. In fact the new india-american companies may have large profit, blending American movie topics and characters with the Indian ones.
I think that Indian filmmakers should go to Hollywood to learn the American know-how and to develop their capacities. Trough specific co-working the Indian film industry may expand its market overseas and be famous like Hollywood. In addiction Bollywood should pay attention to American producer because they have a strong contractual position. It seems to be the same situation about Champaign and Spumante, same success products, but the first one is the gigantic leader of market, for historical and traditional characters and the second one, is the new italian proposition. It's so difficult to rewrite the history of this product, because one is the pioneer and the others, followers. But in this case the followers should tend to surpass in innovation level the leader, proposing alternative offers.  
GIOVANNI MARIA LEPORI